Special Update: Banyan Hills Technologies Selected for Backed By ATL Initiative
Learn more
IoT Technology for the Retail Industry
Manage Your Retail Network With Canopy
Modern retailers need software capable of managing large networks of connected devices. Canopy, the IoT platform from Banyan Hills Technologies, provides real-time insights, remote monitoring and automation so there's less downtime and more revenue.
Keep Sales Ringing With IoT Technology That Helps Minimize Downtime
Real-time Notifications
Our IoT platform, Canopy, can be configured to send email and text notification alerts. The alerts can be used, for instance, to notify operators about problems requiring field service support.
Remote Management
Canopy software allows an operator to securely and safely execute defined commands on the device endpoints. This allows the operator to recover devices in error states or otherwise quickly trigger behaviors across their fleet.
Customizable Dashboards
Configure dashboards to provide at-a-glance updates on the health of a device through real-time view Key Performance Indicators (KPIs). Add, remove, configure and arrange KPIs to fit your business.
Monitor and Manage Device Transactions
Gain real-time visibility into transactions and revenue at the device level. Take corrective action if the data indicates a problem with hardware, software or network capabilities.
Let's Talk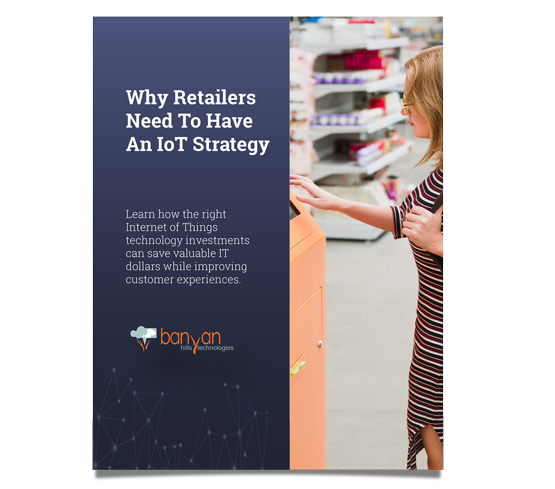 Retailers Need An IoT Strategy
In a smart, connected world, retailers will face several new strategic decisions. Every technology choice will have implications for the business. In this white paper, you will learn more about how Internet of Things technology can save valuable IT dollars while improving the customer experience.
Download the White Paper
Putting IoT into Action
Our IoT platform, Canopy, allows retailers to connect devices across multiple protocols and standards. The solution is configurable and also offers operators the capability to manage tickets through the entire incident management lifecycle. Create tickets, attach photos and provide detailed information that can be tracked and managed through resolution.
Learn More About Canopy
What We Offer
When it comes to the Internet of Things, Banyan makes it happen. We bridge the gap between business and technology by working as a trusted partner to companies operating large networks of unattended devices. We combine our deep consulting expertise with a proven software platform to deliver the promise of IoT along with measurable business value.
We utilize a four-step approach:
Initiate. We work with your team to establish goals, outline strategy, create milestones and delineate project scope.
Analyze &amp Design. We begin developing a prototype product by configuring device integrations, data flows, KPI attributes, remote actions and reporting.
Implementation. We work with your team and any other stakeholders to input configuration settings, validate data, confirm results and ensure that the product provides value to your business.
Launch. We work alongside your team to develop a plan for rolling out the product across your fleet.
Learn more about our IoT platform and how it works.
More Canopy Features
Our IoT platform helps you achieve your business goals
Dashboard
Canopy provides an operator with a centralized web portal.
Operations
A feature-rich user interface to help manage the implementation.
Facilities
Track customizable, detailed information about your locations.
Devices
Track information on all of your connected devices.
Customers
Canopy has customer relationship management (CRM) capabilities.
Transactions
Monitor and manage device transactions and revenue.
Payments
Securely transact from a device via your chosen processor.
Inventory
Gain visibility into your inventory levels across the network.
IoT Automations
Automate tasks through an easy-to-use framework.
Marketing
Create rich marketing campaigns that deliver promotional content.
Incidents
Canopy provides an integrated incident management solution.
Reports
Canned and analytic reporting capabilities are available.
"We knew we needed this from day one. It's an enterprise class solution that's going to allow us to monitor a fleet of these things across the country and have that real-time visibility."
Eric Hoersten
Swing King co-founder and COO/CTO
Awards and Recognition
A few of the places where Banyan has received recognition
Latest News and Media
Stay up-to-date on all things Banyan Hills
Articles
Banyan Hills Technologies' CEO and founder, Steve Latham, was recognized during the Metro Atlanta Chamber's Backed By ATL Launch event ...
Press Releases
The Metro Atlanta Chamber (MAC) today announced Banyan Hills Technologies as one of its 14 high-potential middle-market companies selected to ...
Press Releases
Banyan Hills Technologies, a remote monitoring and management software company, today announced a partnership with Synaccess Networks, an industry leader ...
See All Latest News
A Few Of Our Customers
We like to keep good company.
Integrations With 3rd-Party APIs and Applications
Check out some of the highlights from our library of enterprise integrations
Common Branded Device Integrations
Our IoT software already connects to dozens of device brands. We do custom integrations also!
Resources For Learning About the Internet of Things
Stay up-to-date in this fast moving industry
COVID-19 Update: Our commitment to our customers.
Learn more